Looking for an adrenaline rush?
Pacific World are creating inspiring and exciting events focusing on the renowned Formula One races that take place across Asia throughout the year. Take a look below at some of the destinations where your clients can experience the F1 thrill first hand.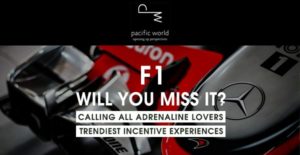 Contact us for more information or for a tailored proposal to  Singapore, Abu Dhabi, Shanghai or Japan.