UDAIPUR
From the natural beauty of rolling hills and serene lakes, to majestic palaces and beautiful gardens – Udaipur has it all! Considered as one of the most romantic cities of India, Udaipur is a land around the azure water lakes and hemmed in by the lush hills of the Aravallis. The majestic city has had a long history, dating back to 1559, and will make you feel a sense of royalty as soon as you arrive.
Read on to discover options for your clients next adventure to India!
The Sunset Terrace, Fateh Prakash Palace, Udaipur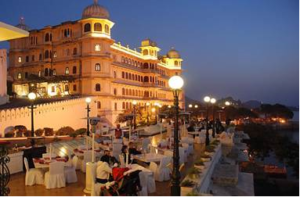 Offering unparalleled views of the city's landmark palaces and magnificent natural scenic beauty, the Sunset Terrace is the perfect location to hold your clients next event.  Consistently rated as one of the top restaurants of India, the Sunset Terrace offers dramatic views of Udaipur's most famous landmark palaces, comforting live music and a delectable menu. Whether you visit in the day or evening you are sure to experience the unique charm and ambiance of this venue.
No. of Pax: Min. 02 pax / Max. 120 pax
Insider Tip: Quiet terrace away from the crowds. Great view overlooking the Lake Palace.
The Gangaur Boat Cruise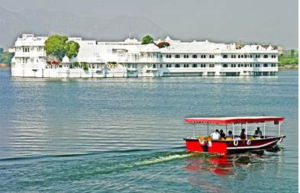 The Gangaur boat is the actual (antique) royal barge of the house Mewar. The barge is decorated in a regal way and lit up to resemble a fireball from a distance. A group of as many as 25 can enjoy dinner served in the boat, while up to 35 people can be served cocktail on board.
Insider Tip: One of the most special experiences in the city – delicious food, perfect weather, romantic ambiance and a relaxing experience.
Jagmandir Island Palace: A Palace on an Island in Lake Pichola
Built by Maharana Karan Singhji in the early 1600s but taking its name from Maharana Jagat Singh (1628 – 52), Jagmandir Island Palace is a beautiful venue situated in the midst of Lake Pichola. 
Guests are ferried in beautifully decorated boats across the lake in form of a procession to the JagMandir Island. The whole island is beautifully illuminated and resemles a floating jewel, creating the perfect start for a magical evening. Once inside, the palace transports your clients to another era, recapturing the essence of royal leisure palaces.
Click here for further information on Pacific World India or to request a tailored proposal please contact us.