Hosts Global (Hosts), a strategic partner for destination management services worldwide, hosted over 200 clients and hospitality industry professionals for their sixth annual Hosts Global Forum. This invitation-only event occurred at the Europa Hotel in Belfast, Northern Ireland from June 21–24, 2018 where attendees participated in on-trend industry discussions, educational sessions, networking events and memorable destination-specific activities.
Hosts' 2018 conference highlighted the wide variety of hospitable offerings, venues and activities that are available for group programs, meetings and events in Belfast. This year's event was made possible by platinum sponsors Moloney & Kelly, a Hosts Global member, Tourism Northern Ireland and Hastings Hotels.
Before the event even started, guests checked into the newly built Grand Central Hotel Belfast. Forum attendees were the first to stay in the luxury high rise hotel, as Grand Central opened their doors to Hosts before their official grand opening just for the occasion.
During the welcoming event, all attendees participated in a corporate social responsibility program organised by Moloney & Kelly that contributed to local non-profit organisation, The Wave Trauma Centre. The organisation is a grass roots, cross community, voluntary organisation formed in 1991 to support people bereaved of a spouse as a result of violence in Northern Ireland, and later expanded to incorporate the needs of child, youth and those injured or traumatised through "the Troubles".
During the conference, Hosts proudly announced the winners of the annual Hosts Honors awards acknowledging DMC members who exceeded expectations in the following categories:
Critic's Choice Award:
Ultimate Ventures, a Hosts Global Member based in Dallas
and
Hosts Southern California
DMC of the Year Award:
Moloney & Kelly, a Hosts Global Member
It wouldn't be a forum for hospitality leaders without showcasing unique events. The opening session took place at Titanic Belfast, where attendees explored the Titanic story from a fresh and insightful perspective in the city where it all began, before stepping back in time for a Titanic era Belfast soiree. The city of Belfast welcomed Hosts Global attendees with open arms proving that they are #IncentiveReady.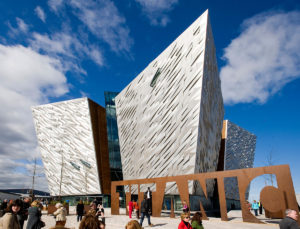 For further information about Belfast, Ireland or for a tailored proposal please contact us.