This April, Karma House celebrates their 15 year anniversary since their inception back in April 2003.  Fifteen years full of great moments including successes, challenges, ups and downs, tears and laughter, and most of all achievements.  Despite all the regional turmoil,  Karma House Jordan managed to remain resilient and succeeded in maintaining the highest standards of excellence in providing top quality services to their clients, thus maintaining its position as a major DMC in Jordan.
When Karma House was created back in 2003, their aim was to "Exceed Clients Expectations" –  and by having a great team who are loyal, creative and devoted, they managed to achieve this goal.
As they are now entering a new phase with new visions and aspirations, they have decided to refresh their branding and are excited to share their new identity and logo,  which maintains elements and characteristics of their beloved Jordan. The new logo depicts Karma House's new vision of  "Providing an exceptional tailor-made experience in Jordan for all types of travellers". Whether travelling for business, leisure, educational, cultural, experiential, or other purposes, KARMA HOUSE are your partners.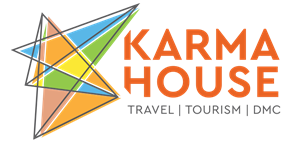 Their new logo is the face and base of their organisation.  It is a graphical representation of their identity, capturing all that Jordan has to offer from its ancient monuments, nature reserves and a rich cultural unique experience. It is divided into two parts; the first part being the modern geometric lines representing the map of Jordan and second part being the colour blocks which represent the colours that can be found across the diverse and unique landscapes of Jordan. The tip of the map heading up, represents the new phase that Karma House DMC is heading for, full of positive energy and looking forward to a yet further success and a brighter future.
Contact us for more information or to request a tailored proposal of Jordan with Karma House.