Pacific Destinations Fiji is proud to announce the launch of their new deluxe airport arrival concierge services for pre-booked visitors to Fiji with a traditional iri (hand fan) and masi & vau lei, both hand woven by local women groups through Rise Beyond the Reef and Daku Village respectively.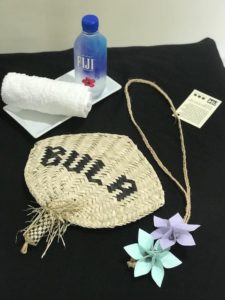 Managing Director, James Sowane said that it is a proud moment for the company to spread the tourism dollar further to local communities who have committed to producing bulk supplies of their handicraft. "Our hand woven iri and lei will be a unique aspect of our airport welcome experience as it carries an authentic story of supporting local community businesses that are driven by hard working women of Daku Village as well as the various villages that work with Rise Beyond the Reef," said Sowane.
Sowane added that the new iri and lei service commenced on Friday 1 September 2018 and replaces the floral lei option. "Floral leis have been the traditional choice of the past years, however, it has its own challenges with seasonality of flowers, affecting consistency of standards. These new leis and fans will not wither and can be taken back home by our visitors as a fond reminder of their Fiji holiday experience."
About Pacific Destinations Fiji:
Pacific Destinations is an 100% Fijian owned and operated destination management company who have been delivering quality tourism land services since 1999. Pacific Destinations owns and operates their own fleet of quality vehicles and also operate tour desk services to three of the large hotels along the Coral Coast. Pacific Destinations service over 65,000 international visitors annually.
Rise Beyond The Reef:
Rise Beyond the Reef bridges the divide between remote communities, government and the private sector in Fiji, sustainably creating a better world for women and children. 50% of Fiji's communities live rural and remote areas.
Due to lack of transportation, education and market access is challenging and creates barriers to earning income. Through Rise Beyond The Reef's Traditional Contemporary Arts and Crafts Income Generating Programs, women continue to practice their traditional skills so they are not lost. They learn new skills and in the process Fijian women lead their families and communities as an income earner.
Daku Village:
Daku village is about a 4 hour drive from Nadi or less than an hour's drive from Suva in Tailevu, near Nausori, on the main Fiji island of Viti Levu.
Modern day development has resulted in the clearing of mangrove areas and as a painful consequence, the surrounding Rewa River is now clogged with sediment and the number of fish has declined dramatically. As the men of the village are no longer able to catch enough fish and shrimp, the women have stepped in and are selling hand-made fans made from palm leaves. The village's 400 residents are making up for the economic loss through the sale of fans.
Contact us for further information about Pacific Destinations or to request a tailored proposal to Fiji.