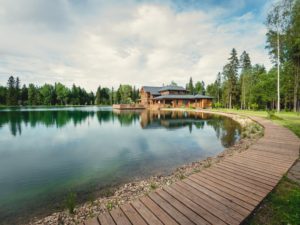 Located in a picturesque corner of Moscow region, "Izumrudny Les" (Emerald Forest) is an elegant eco hotel offering numerous outdoor experiences, add is a perfect setting for an unforgettable escape. This property is home to 6 cottages and 22 hotel rooms, sheltered by 220 hectares of stunning forest surroundings. Izumrudny Les has 7 multifunctional meeting rooms for banquets and conferences with event capacity ranging from 10 to 200 guests.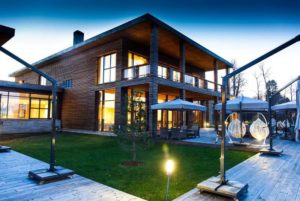 LA VILLA PLYOS
La Villa Plyos is a luxury wellness resort, located on Volga river amid the beautiful Plyos forests and river shores, away from the city noise. La Villa Plyos goal is to provide guests a combination of physical exercise, balanced nutrition, indulgent spa treatments and art programmes in the atmosphere of absolute luxury and comfort.
La Villa Plyos takes an individual approach to each guest's wellbeing, high-quality service, comfortable stay, own natural water source, a farm with seasonal vegetables and fruits, and, most importantly, highly competent experts will help you get away from everyday routine and benefit from staying at La Villa Plyos to the maximum.
* A stay in Villa Plyos and visit of Plyos may be added as a part of Golden Ring tour.
Bolotov Dacha is a country hotel located in the Tula region, one and a half hours from Moscow. This property is named after Andrey Bolotov – one of the most distinguished agriculturist of the 18th-century Russian Empire. It is a large Russian countryside residence offering fresh air, delicious food and numerous spaces for inspiration. Each room on the property is named after one of the plants that Andrei Timofeevich Bolotov grew in his famous garden.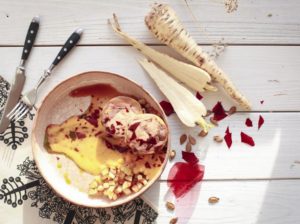 MARK & LEV RESTAURANT
Award-winning farm-to-table restaurant "Mark & Lev" is located in the scenic countryside of Tula Oblast, 120 km from Moscow.  "Mark & Lev" only use locally sourced produce from small and mid-sized farms within a 150 km range. All the suppliers are both neighbours and friends since they live and work close by.
Chef Mikhail Lukashonok creates a new language for regional Russian cuisine by combining contemporary techniques with recipes and flavours deeply rooted in Russia's culinary tradition. The team devotes special attention to using heritage and half-forgotten varieties of vegetables and herbs.
*A visit and stay in Bolotov Dacha and Mark & Lev restaurant may be arranged as a part of a two day trip to Tyla and Yasnaya Polyana (Lev Tolstoy Estate)
For further information on the above or for a tailored proposal to Russia please contact us.